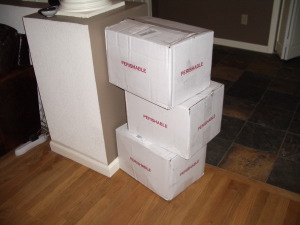 11/22/05 - Too Many Turkeys
You may remember our quandary last year with regard to a surfeit of oysters closely followed by a surfeit of poultry. Well, it's that time of year again. We now officially have a surfeit of turkeys.
We innocently ordered one, make a note of that, one, large heritage breed turkey from Heritage Food USA. We were eagerly waiting in our doorway when the Federal Express truck arrived. We accepted our turkey in its white shipping carton and thanked the delivery man for getting us our bird. We were all set to sign off, but he told us that he wasn't done yet. We had three boxes.
Indeed, we had three turkeys, each in its own white shipping carton. There was a 21 pounder and two 18 pounders. That's 57 pounds of turkey for two people. Even we have to draw the line somewhere. We officially declared a surfeit, and scrambled madly for freezer space. One bird is for Thanksgiving, but, as you might expect, we have plans for the other two.
Keywords: birds, food, port angeles, oysters