Kalebergs' North Olympic Peninsula
Hike Olympic National Park with the Kalebergs

We liked hiking in Olympic National Park so much that we moved to Port Angles, the gateway to the park, back in 1999. We are hikers, not campers, so we do day hikes that get us back to our car in time to get home for dinner. This book is based on our web site. It describes thirteen of our favorite hikes with maps and pictures.

To be honest , the pictures are the whole point of the book. Olympic National Park has snow capped mountains, miles of sea coast, jewel like lakes, and the distinctive evergreen forests of spruce and salal that define the Pacific Northwest. You can use this book as a planning guide, and you should keep it handy when exploring the park, but it is also a great souvenir to remind you of the beauties of the region.
Some Sample Pages

Take a look at a couple of sample pages to get a sense of how this book can make your vacation in the Pacific Northwest more fulfilling and enjoyable. There are many wonderful day hikes, long ones and short ones, in Olympic National Park, and our guide can help you make the most of them.
For more a better look at the book, and more information, go to the lulu purchase page or the lulu preview page .
Thirteen Hikes in the North Olympic Peninsula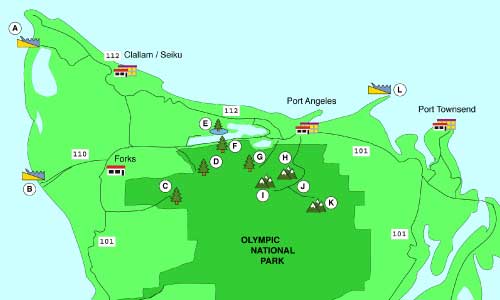 You can find out more about our favorite day hikes on our website just by following our links, but consider buying a copy of our guide to take with you on your trip to the park. It weighs little more than an iPod. It has a full color, 13" high resolution viewing area. It costs less than a DVI to VGA adapter, and it's a whole lot prettier.