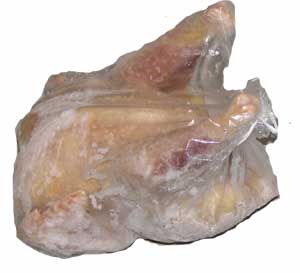 Then, we got a call from Harley at Dry Creek Farm.

For a number of months, he had been talking about several of his chickens who had ceased laying eggs. His hens produce some of the best eggs we have ever tasted, so we always drop by his stand at the Farmers' Market in Port Angeles. He has also graciously provided us with some chicken manure for our garden, and while we can say nothing about the taste vis a vis that of his eggs, our plants seem to like the stuff.

For some time Harley has been discussing the fate of his non-laying hens, and it seems that the movie Chicken Run was not far off the mark with regards to chicken retirement plans. This is unlikely to change, at least for chickens, despite the ongoing debates about "fixing" Social Security.

Unfortunately, there is some distance between the barnyard and the oven, and this includes killing and dressing the birds which is not too hard, and removing their feathers, which is rather hard. We expressed our interest in acquiring a number of his retired layers, but since we had no desire to pluck them ourselves no delivery date was set.

There is a principle stated that like calls to like, so it was not surprising that as the number of fowl in our refrigerator continued to grow, Harley's chickens were suddenly dead, dressed, plucked and available. We bought three of them, and while they are not much to look at, we are most curious as to how they will serve boiled up as poule au pot or simply roasted.

We made a promise to report on quality of the birds, but Christmas was rapidly approaching.