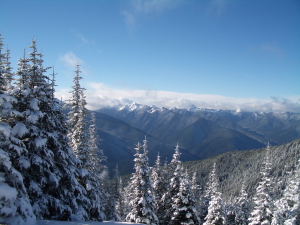 11/26/05 - Hurricane Ridge Is Open
Last winter, we didn't get up to Hurricane Ridge very much. Either it was snowing, or it had stopped snowing, but the plow was broken, or all the snow had melted. This year, things we hope for better, and the season is already showing some promise. Today, the road was open, there was a nice coating of snow, and everyone seemed to be heading up to the Ridge to work off some Thanksgiving turkey.
We put on our snowshoes and hiked from the Hurricane Ridge lodge to the Hurricane Hill trailhead. We ran into others on snowshoes, cross country skiers, and a number of people just tromping along in boots. The sky was bright blue, with just a hint of cloud, and the air was wonderfully clear. This latter was an especial relief since we had been enduring a bit of fog and bad air of late.
The ski lift wasn't open yet, but there were lots of people with sleds, snowboards and even skis. Of course, they had to climb Sunrise Peak by foot without the lift. As for us, we came for the exercise.
Keywords: high country, winter, hurricane ridge, hurricane hill, snowshoeing, kale