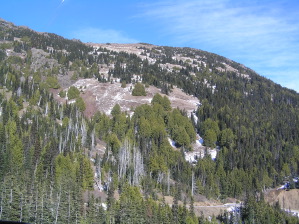 02/15/05 - Snowshoe Report From Hurricane Ridge, snowshoeing

We went snowshoeing on Hurricane Ridge a few days back, and we were rather amazed at the lack of snow. There was snow, but not all that much as you can see in these two photos. Just as a reminder, these were taken in February, not June.

The road to the Hurricane Hill trailhead did have snow, but the thick section near the start was deceptive. There were portions of the trail where it was easy to bottom out and poke at the asphalt of the road with our sticks. Still, the snow was white, and the scenery spectacular. If you don't have snowshoes or cross country skis, you can just hike if you have a good pair of shoes.

The picture on the right is of Hurricane Hill. Most of the snow seems to have melted! There are usually bits of snow hanging around until August. Unless the heavens open up, it looks like it will all be gone by May.

The picture on the left is of the Switchback Trail to Klahane Ridge as seen from the road to Hurricane Ridge. It looks like most o fhte snow has melted, but you can see the snow on the trail as the criss cross of white lines just above the center of the picture. Judging from the trailhead, it looks like you can just walk up to the ridge if you don't mind the occasional snow drift.


Keywords: winter, high country, hurricane hill, hurricane ridge, klahane ridge, snowshoeing