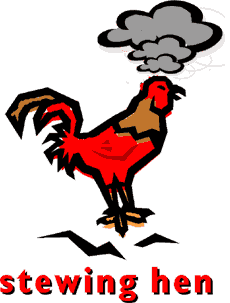 03/01/05 - Stewing Hen

We've mentioned Dry Creek Farms and there wonderful eggs on our website before. And, we've mentioned our recent acquisition of three of their hens in our column on Too Much Poultry.

You can think of this column as a follow up to our Too Much Poultry column. We were talking with Harley at the Port Angeles Farmers' Market the other day, and he mentioned that he had sold a good number of his hens. We were telling him how delicious they were, and he recounted that one of his customers had found the bird to be too tough.

"How did they cook it?", we asked.

"They roasted it.", he replied.

"Well that explains it. Old hens are stewing hens. You have to braise or stew them for hours to get them tender. We cooked one of ours in red wine and it was stupendous."

We promised to provide him with a recipe or two, and we've posted our favorite online. Check out our Stewing Hen page for a great coq au vin recipe, perfect for the chicken of a certain age.

Keywords: food, farms, birds, port angeles, wine, farmers' market, recipe