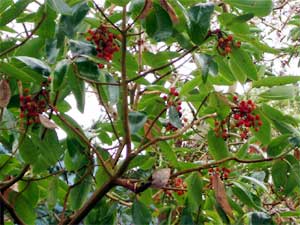 10/31/05 - Great Year for Madrona Berries on the Spruce Railroad Trail
This has been a great year for madrona berries on the Spruce Railroad Trail. When we first saw madronas, years ago in Bothe Napa State Park, we thought they were mutant magnolias because of their smooth bark and glossy leaves. It turns out that they aren't even related, but we found out other things as well. For example, madronas are coastal plants, so they are almost never found more than 75 miles from the sea. The plants we saw in Napa Valley were in a high pass west to Sonoma.
The Olympic Peninsula is surrounded by sea, so we have lots of madronas, some quite old and large. There is a great cluster near the Devil's Punchbowl, the swimming hole about a mile west of the Spruce Railroad Trail trailhead. This fall they've been full of berries. If anything, the red and green are a bit Christmassy for this time of year, so we guess that even nature, not just retailers, are getting set for the season.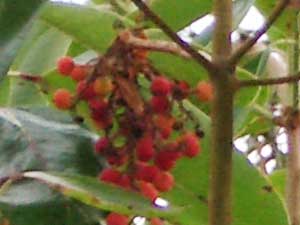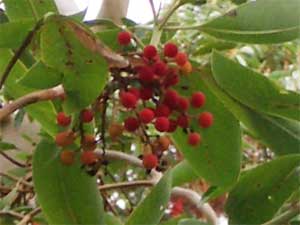 Keywords: flowers, spruce railroad