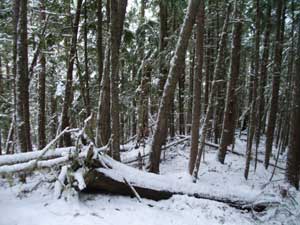 11/06/05 - Winter Calling: A Report En Route to Lake Angeles
It seems like only yesterday that we were wandering the high country of Olympic National Park, but the snows have been coming in and Hurricane Ridge Road has been closed early. Rumor has it that the park will be plowing, but for now we've retreated from Hurricane Hill and the Switchback Trail to one of our winter standbys, the Lake Angeles Trail which starts at 1870' above sea level, right near the entrance to the park.
There was no snow in the parking lot, but about 600' apl (that's above parking lot) we started seeing a thin crusting along the trail. The traction was great, so we kept on going. The wooden bridge over the stream was covered with perhaps a quarter inch of snow, but even we managed to cross it. It wasn't until about 1200' apl that the trail started to seem snowy. From here on up we could definitely feel that we were walking on snow, and as we ascended, the snow got deeper. We turned around about 1600' apl, and as you can see in the picture, there was an inch or two of snow.
We didn't go any farther, but there were a good number of people heading up and down the trail. They were all wearing boots, and most of them had made it all the way up to the lake. The snow there, around 2350' apl is over a foot deep, maybe a foot and a half. It sounds like rough going, but everyone we met said it had been worth it. Maybe next time.
Keywords: winter, high country, lake angeles, hurricane hill, hurricane ridge