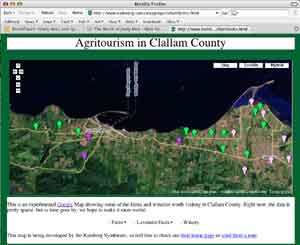 10/11/05 - Google Maps Come to Clallam County
We've been playing around with Google Maps. This is a rather neat interactive mapping system developed by Google. It uses a road database like Mapquest and a false color satellite database so you can see not only the streets and roads, but also get a sense of the land usage and urban density. The interface is neat too. It's the old electronic light table idea. You just put down your mouse and drag, and your web browser loads in the image tiles as you go.
Our map of Clallam County shows farms, lavender growers and wineries. If you click on one, it will tell you a bit more about the destination. It also shows the growing suburban sprawl in the Sequim area. If you look carefully, you see housing developments and golf courses. For some contrast, drag the mouse upwards, and you'll see the Olympic National Park and National Forest boundaries. Those park and forest boundaries are more than just lines on the map.