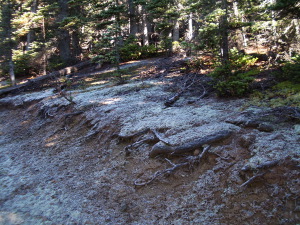 10/11/05 - Early Frost in the High Country
There is already frost up in the hills. We were up on the Hurricane Hill Trail this morning, and there it was alongside the trail in the shaded areas. The lingering snows vanished months ago, but now we are getting our first glimpse of winter as the temperatures drop at night.
Obstruction Point Road is still open, but they close it at night. The snow poles are up around the Hurricane Ridge Lodge. This is still autumn, but we are seeing signs of winter, and a mile above sea level winter starts a fair bit earlier than down by the sea.
Keywords: winter, high country, autumn, hurricane hill, hurricane ridge, obstruction point