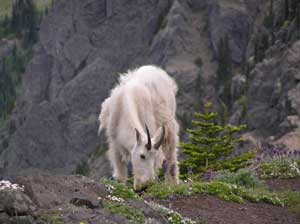 07/02/05 - Mountain Goat at Klahane Ridge

The Switchback Trail to Klahane Ridge is one of our favorite high country hikes. If nothing else, the trailhead is right off Hurricane Ridge Road a bit shy of the ranger station on Hurricane Ridge, so it is an easy drive. We got an early start today to avoid the Fourth of July crowds, and we fairly tore up the 1450' from the Switchback Trail trailhead to the ridge, but just as we got to the overlook, where one can see Port Angeles, Sequim, Dungeness, the San Juan Islands and Vancouver Island spread out below, we stopped short. There, by the sign post, was a mountain goat, chowing down on the foliage.

There are mountain goats, actually a type of sheep, in Olympic National Park, but they are rarely seen in this part of the park. This one was shaggy, still shedding its winter coat, but more than willing to cooperate with a photographer.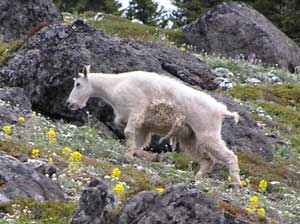 Keywords: klahane ridge, animals, high country, dungeness, hurricane ridge, port angeles, winter, mountain goats