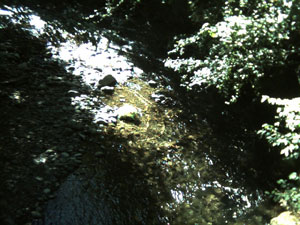 08/27/05 - Art at Morse Creek

Have you been out to Morse Creek lately? If you look to the south as you cross the old (and lovingly restored) railroad bridge, there's a lizard painted with yellow on the creek bottom. Click on the image to the left for a closer view.

We are not sure of who the artist is, but last year someone painted a rainbow path on the north side of the bridge, and as the winter progressed and the river flowed, the rainbow was broken and its colored stones scattered. For now, the lizard is intact, and the river flow is weak.

We'll see how things go this winter, and look forward to next season's river bottom painting.

Keywords: art, morse creek, winter