Elwha River

The Elwha River is one of the many rivers that flow from the North Olympic high country to the sea. The river here is not as accessible as at the Hoh or elsewhere, but the hike from Whiskey Bend offers some interesting country and takes you along the valley wall, in and out of waterfall canyons, then down into a mysterious glen near the river crossing. This is an easy hike, but can be long, and requires some climbing.
UPDATE - May 25, 2007 - Whiskey Bend Road is in good shape for our Honda, and the trails are in great shape.

How to Get There
Take route 101 west from Port Angeles and when the road starts getting twisty and turny, watch for the Elwha turn off on your left. It is right before the river crossing. Take the left turn and follow the road into the park. Whiskey Bend Road starts on your left a bit past the ranger station, also on the left. Take a left onto Whiskey Bend Road and follow it four plus miles to the end.
Whiskey Bend Road is unpaved, but generally well maintained. We have driven it numerous times in our Honda Civic. Do go slowly, especially at the turns, and keep your eyes open for turnouts.
The Kaleberg Hike
Whiskey Bend to Lillian Camp - 3 stars - easy, picturesque trail - neat waterfall canyons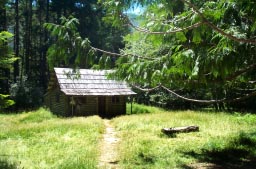 Whiskey Bend is a wonderfully isolated trailhead, but the Elwha Trail has a number of popular camping sites along it, so it does sometimes get crowded on summer weekends. The trail itself starts at the far end of the parking lot and climbs several hundred feet to an overlook, before descending even further to Michael's (or is it Hume's) Ranch. This area used to be cattle country, and the old farm house is still there, but the animals grazing are most likely to be deer.
There are a number trails that branch off from this early leg of the trail, including the Rica Canyon Trail. These will get you down to the river and you can make a loop of it. Get a map at the ranger station if you don't trust your navigational abilities.
We have tried some of these trails, but what we usually do is to climb straight out of the valley, up five hundred feet, as we continue towards Lillian Camp. The long straight climb is broken by two lovely canyons, each with its own stream, waterfalls, and rapids. Some parts of the trail are arid, so these are neat little oases, and make good resting places.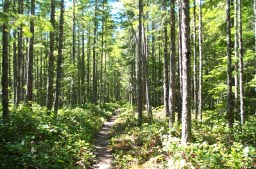 After the second such canyon, the trail ascends again into a relatively new part of the forest, full of tightly spaced, relatively young trees. The effect is rather eerie, as if some mysterious force has stunted the forest here.
The trees start getting bigger again, and then the trail forks. One, poorly maintained branch, goes to the left and uphill. We have tried taking this, but it belongs to the salal now. The other branch heads downhill into an isolated, mysterious glen. It almost feels as if one is entering an enchanted refuge as one descends towards the river here.
Two hundred feet down, there is a campsite and a broad bridge over the Elwha. This is a good place to watch its rushing waters, before heading back to Whiskey Bend.
Kaleberg Hints
As always, take plenty of water.
There is one slightly narrow log bridge crossing, so you might want to practice a bit if these make you uncomfortable. Normal humans should have no problems.
Do keep your eyes open for bears. There were a fair number of them around a few years ago, but tighter restrictions on food storage and a milder winter seem to have reduced their prevalence. To be honest, we have only seen one bear on this trail, and it was only visible on the far side of the river using binoculars at one of the early overlooks.
---