Maison Robert
Maison Robert is an old fashioned French restaurant serving lunch and dinner in the old Boston City Hall. It was old fashioned in the sense that it served a real lunch, something rather hard to find in Boston, and it had that old missionary feel as if it were an embassy of good food in a land of ignorant savages. The food itself used to include both old faithful favorites like a good onion soup, escargot, ris de veau and steak frites, but also included newer dishes borrowing from the Mid East and the orient.
Those Were The Days (June 1997)
Unfortunately, those days are over. On our most recent lunch time visit we were saddened to find the menu sadly curtailed and the preparations simplified. While they did serve steaks and other real food, it was more 1950s country club menu than an old fashioned French restaurant menu. We left and went to Biba.
---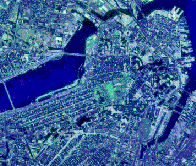 BostonRestaurants