Jasper's
Jasper's was a Boston original based on the idiosyncratic cooking of Jasper White who is now a consultant at Legal Sea Food. He combined classic New England concepts with modern techniques and quality ingredients to produce a one of a kind restaurant.
The Boston brown bread at Jasper's was not merely edible, but absolutely wonderful and the appetizers always included fresh oysters, his trademark grilled duck salad, poached quail eggs with caviar on toast and a Portuguese kale and sausage soup. For years we enjoyed his lamb and beef and fish from the sea, but then we discovered his lobster with chervil butter. It was just as well that we took so long to find this miracle since once we had discovered it we ordered nothing else. There was nothing quite like his rich chervil and bourbon butter sauce on a sauteed lobster served in its shell.
Jasper White closed the restaurant a while ago, but many of his recipes are in his Jasper White;s Cooking From New England, including his lobster in chervil butter. Now and then we reconstruct a dish or two of his and mourn the passing of this Boston treasure. The closest you can get to Jasper's these days is the New England oriented cooking at Rowe's Wharf, but this is more institutional and besides, Mr. White got there first.
---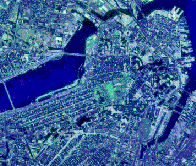 BostonRestaurants