Figs
Figs is owned by the same guy who owns the notoriously diner unfriendly Olives which is infamous for refusing to accept reservations. This situation was so bad that American Express even managed to offer a complex gift certificate scheme which allowed the buyer to actually make reservations just like at a real restaurant. Needless to say, we have not bothered enduring Olives.
We did, however, make the mistake of trying Figs which is a smaller, cafe type place on Charles Street. To our amazement, we were promptly seated and our order, salads, followed by one of their pizzas, was taken. After a while, the salads appeared and were eaten. Then we waited, and waited, and waited, just like on the internet, except that after 55 minutes we still didn't have our pizza or even a little red bar growing at the bottom of the screen.
What did we do? We did the only rational thing. We paid for our salads and went to eat bar food at Biba. which we recommend whole heartedly.
Definitely not for the hungry.
---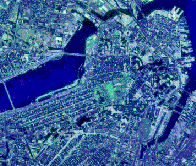 BostonRestaurants