Mandarin
We were looking for a good Chinese banquet sort of restaurant and wanted something fancier than J&J or the Great Eastern on Jackson Street in San Fransisco so we followed the guide books and tried out Mandarin at Ghirardelli Place. We wanted Mandarin food and we wanted something different and we found it.

Once you take the elevator upstairs and get away from the hustle and bustle of the tee shirt vendors at street level, the Mandarin was quite serene. We ordered Peking duck, an excellent, defatted version and beggar's chicken, cooked wrapped in clay and stuffed with a variety of vegetables. We had expected a total gut bomb and ordered only a side dish of glass noodles with greens with our two birds, but were pleasantly surprised. The duck was both flavorful and light and the chicken positively dietary with its stuffing of bamboo shoots, mushrooms and water chestnuts.

While we still prefer the sheer exuberance and variety of Cantonese cooking, we really liked Mandarin with its continental style service and excellent wine list.
---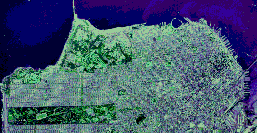 San Francisco Restaurants