Laghi
UPDATE - May 1999 - Laghi has moved to the corner of Sutter and Steiner, not far from Japantown. They have spacious new quarters and you no longer have to pass through their kitchen to get to the bathroom. To compensate for this, they have a new open kitchen at one end of their dining room. Oh yes, and valet parking. Now, you are out of excuses.
The food is as wonderful as ever. They have their excellent pastas - chestnut, saffron, tomato, spinach - that taste flavored, not just look flavored. We loved their chestnut pasta with roast goose sauce and their saffron pasta with seafood was as good as ever. Their grilled meats, steak Florentine, wild boar, and the like are divine. Did we mention their seafood? - Laghi does great fish.
I guess, we've explored enough of Clement Street (see below), now we've got an excuse to check out Japantown.
---
Laghi is located a bit off the beaten tourist track in San Fransisco way down Clement Street which is worth a visit in its own right. In fact, Laghi is way past most of the Clement Street restaurants which are an eclectic mix and it is well past Green Apple books a new and used bookstore and one of our favorites.

Laghi is a neighborhood restaurant with down home, hearty Italian cooking and some of the best home made pasta on the continent. They have a wonderful saffron pasta which they serve with sea food, a chestnut pasta they serve with hearty meat sauces - pork or venison, a mushroom pasta and a host of others in a variety of strands and forms. They even have good Italian wines by the glass.

If you do go, don't resist anything with venison, duck or rabbit, or you can have their steak florentine. After the meal, consider a walk back along Clement and some window shopping or a drive down to the Pacific, not far away, to watch the sunset. Laghi is our favorite Italian restaurant in San Fransisco and that is saying a lot.
---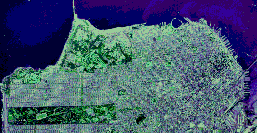 San Francisco Restaurants