Great Eastern
This is one of those Chinese restaurants on Jackson Street with fish swimming around in their tanks in the back. No, it isn't a dentist's office waiting room, those fish are for eating. The tanks are your assurance that the fish are fresh.
Like most restaurants of this kind, they have an extensive menu with fish, shell fish, meat, foul and vegetarian entrees. We've had their smoky fried oysters, their deep fried whole sea bass, their ginger steamed rock cod and a host of other wonders. They deep fry to perfection and every dish is pervaded with flavor. It is hard to go wrong ordering fish here, whether you are familiar with the cuisine or not.
We'll also recommend anything made with squab. These dark meated birds are good cooked red style with salt and pepper or minced with pine nuts and other goodies, then served on a lettuce leaf. Don't limit yourself to sea food and squab. We love their mustard greens and their tofu dishes. We still haven't gotten around to ordering pork, beef, or chicken here and, given the size of the menu, we are never likely to.
In our experience, Great Eastern is one of the best Chinese restaurants in San Francisco, so the Kalebergs say, give it a try.
---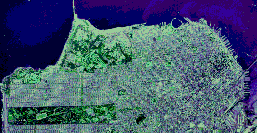 San Francisco Restaurants