(415) 956 6969
450 Post Street
Farrallon is a beautiful and charming restaurant serving lunch and dinner in the Union Square area. It is named for the islands off the San Francisco coast, and has a nautical theme, with glass sculptures of medusas and sea urchins dominating the decor. The main vaulted dining room is located above the Elk's swimming pool and its mosaic archways heightens the sense of being under the sea.
The food is both modern and classic, classic 1980s that is, but without the wrong-headed excesses. We had just been reminiscing about the explosion in American cuisine in the late 1970s and the great dishes of the early 1980s. We had been fans of the Harvest (in the Boston area), which had a wonderful dish of pheasant stuffed with a pheasant forcemeat. We had enjoyed the sense of exploration that defined the era despite its failures. Then, we stopped into Farallon for a glass of champagne at the bar, and out of curiousity checked the menu. There it was, the pheasant dish we had just been talking about. We made a reservation for that very evening.
We were not disappointed.
Naturally, we went for the seafood, with their intensely flavored stew fennel, mussels, scallops and lobster, their sea urchin custard served in an egg shell with caviar, and their dungeness crab meat with cardoons. Every flavor was bright and clear. There was a sense of exploration and delight.
For our entrees, we went for the arctic char served with black kale, caramelized salsify and fried parsnip curls. It is rare enough to find things like cardoons and salsify on menus any more, let alone spotlighted, both on the menu and, by flavor, on the plate. The Atlantic cod, once a staple, now a rarity, was served with a crisp broiled skin and black truffles on a bed of leeks with a grebiche, a sort of tartar sauce with pickles. There was a combination of French technique, American exploration, and 1980s delight in discovery.
As for the pheasant stuffed with pheasant forcemeat, it was wonderful, with the rich savory of the bird set off by the shredded brussels sprouts, bacon and chanterelles it was served with.
We finished one meal with a delightful cheese tray, and the other with a little parfait of vanilla ice cream with chocolate sauce and a vanilla custard wafer. Does anyone even serve parfaits any more, except for ironic effect?
Being aging baby boomers, we dined and felt young again. The world was our oyster bed, and we were going to eat one of each and find out which tasted best. Farallon is a totally wonderful restaurant, and we can hardly wait to return to this undersea kingdom.

Review: 24 January 2001
---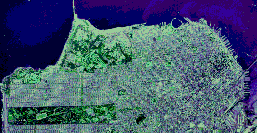 San Francisco Restaurants