Chez Panisse
Chez Panisse is a jewel of a restaurant as well as a national institution. Any time you hear anyone in the United States talking about regional cuisine, local farming, or preserving heritage breeds of plants or animals you are hearing an echo of Alice Waters who founded Chez Panisse way back in the early 1970s and still runs the restaurant to this day. Now that you can find Sonoma County goat cheese and sun dried tomatoes in your supermarket it is hard to realize just how revolutionary her idea was. It might help to see the movie The Big Night just to get a feel for how revolutionary she was. Single handedly, she became an effective counterforce working against the rise of mega-agri-business.
The little restaurant on Shattuck Avenue in Berkeley is actually two restaurants. The upstairs serves California cuisine starting with lunch and still has some of the best green salads and wood fired pizzas in the business. It is compact and bustling. The downstairs serves dinner only and is more serene. You will need reservations, which can be hard to get for Saturday nights, but the prix fixe table d'hote is worth it.
On our most recent visit after many years, we had a Dungeness crab salad with curly endive and chervil, ricotta gnocci, James Ranch lamb with green garlic and finished with a blood orange tartlet. The portions are modest and each dish is exquisite. Upstairs or downstairs, the salads and fresh greens at Chez Panisse are without peer. Each vegetable is a gem and each dish a symphony.
Chez Panisse is not the right place to come for a pig out. Once we were so hungry that after a long, slow dinner (delayed by some kitchen problem) that we had to have a second dinner upstairs afterwards. Since our main wish when visiting San Fransisco is to have four stomachs like a cow, this was more wish fulfillment that frustration.
---
The Marius Trilogy
The name Chez Panisse is a reference to the character Panisse in Pagnol's marvelous trilogy (available on video tape if you know where to look). Check out Cesar, Fanny and Marius for a wonderful story and intriguing view of southern France earlier this century.
Though there was a lot of good food in the movies, there was nothing quite like the meals at Chez Panisse, the restaurant.

---
Early Reference to Chez Panisse

Chez Panisse has been around since the 1970s. The first reference we have found to Chez Panisse in an internet based collaborative dining guide is in the Stanford Artificial Intelligence Laboratory (SAIL) based Yum Yum guide.

---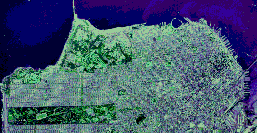 San Francisco Restaurants