Sunny Farms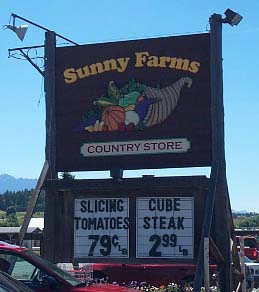 Sunny Farms is the best North Peninsula supplier of organic foods with a good selection of vegetables and an excellent selection of meats. They also have grains, preserves, eggs, dairy, and deli sandwiches. They have amazingly good chickens, delicious organic beef, wonderful country bacon, full flavored pork and a good selection of fish. This is not an organic grocery for vegetarians only.
The fruits and vegetables are also wonderful, but not as amazingly good as the meat, poultry and fish products. We stock up on the Yelm eggs, which make for really flavorful omelets and are safe enough to eat raw. We use them for eggnog every Christmas. We have only had their Othello beef once or twice. It is usually only available by subscription and sold by the half cow, but we have loved the few odds and ends we have managed to buy.
Sunny Farms is located across route 101 from the CostCo in Carlsborg, which is just west of Sequim, and is well worth a stop.
---