Joy's Wine Bistro
360 452 9449
Front and Jones Streets in Port Angeles, WA
We had heard much about Joy's Wine Bistro. If nothing else, one of our friends praised the glories of their Reuben sandwich. Being fond of wine, we were curious, so we checked out their restaurant on glamorous Front Street, a bit east of Race Street. It is a very pretty restaurant, with orange and blue walls, subtle lighting and draperies.
The wine list was excellent, with local wines like Rosie the Riveter Red, northwestern wines, like Echelon Pinot Noir, and even a French wine or two, like the delicious Cote du Rhone we tasted. There were lots of wines by the glass, which suited us fine, since we hate to be tied down to a particular bottle until we're more familiar with the food.
We ordered the crab cake with a green salad and the coconut shrimp with a sweet chile sauce. The crab cake was not bad, but a bit disappointing, since we are in Port Angeles, home of The Dungeness Crab Festival. Though the crab cake was a bit plain, the salad of mixed greens was excellent, and had an excellent garlic vinaigrette dressing.
Our charming and hospitable waitress had recommended the coconut shrimp, and we were not disappointed here. There were big, fresh, sweet and the coconut batter was crisp and nicely seasoned. We could smell the butteriness of the batter as it was carried to our table. The sauce was a good complement, and the combination of shrimp and sauce went well with the slightly sweet rose we had ordered.
The main course was similarly split. We had the lamb with garlic mashed potatoes and stewed tomatoes, a classic bistro dish. The lamb was good, but overcooked, and the mashed potatoes were bland, and we suspect that they might have been reconstituted since they lacked the usual chunky texture associated with this dish. The high point was the stewed tomato, but this was not enough to carry this dish.
In contrast, the hamburger was excellent, with a big beef patty with caramelized onions, fresh red onions and blue cheese. Caramelized onions and blue cheese are an excellent combination, and they comprise one of our favorite pizza toppings, and they set off the flavor of the beef burger wonderfully. The fries served with the burger were good and fresh, but not spectacular.
Overall, we enjoyed our meal. The restaurant is new, and the prices are moderate. The wine list alone makes Joy's worth a visit, but we suggest ordering carefully. They also serve lunch, and we are still curious about their Reuben, being quite fond of the turkey Reuben at Fountain Cafe and the Death Reuben at Carnegie Deli.
For a newcomer, Joy's shows promise. We'll be back to see how they develop.

REVIEWED: 6 January 2006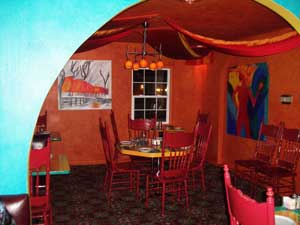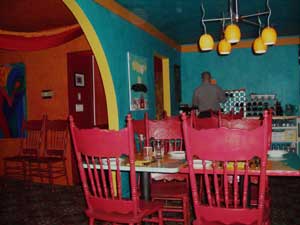 ---