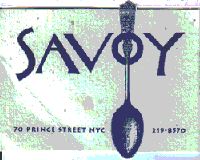 Savoy
For years, we used Savoy as a landmark. We had friends who insisted it was the best restaurant in New York City. We continued to use Savoy as a landmark.

Then we had dinner there. We were greatly impressed.

We started out with their green olives. These were rich, meaty, flavorsome things. The flavor of the olive itself stood out over the competition of the garlic and herbs and brine.

Then, things got serious. We had the roast beets with a hearty smokiness mixed with their sweetness. We had the fava bean fritters in cilantro sauce. We had little slivers of celeriac confit, not just shredded celeriac salad, served with pickled lemons. This was oily, fruity and tart.

We were quite happy at this point, but then came their charcuterie plate with their own home made soppresetta, mortadella, serrano ham, duck sausage and a duck rillette. We've had good charcuterie at a number of places, but Savoy's versions of these old standards puts these in the shade.

For our main courses, we went for the whole wheat penne with truffle oil and brussels sprouts and a bit of fig to add sweetness. We can still smell all those rich, dark aromas, and there is nothing quite like home made penne. We know, now that we have a penne machine.

The salt cooked duck was superb with collards and black runner beans and down home corn pone. Why doesn't everybody cook like this. Why is it so hard to find black runner beans? The lamb shank with black lentils was hearty fare, falling off the bone.

Since we were pigs, we also had a side order of french fries with smoky pepper, and topped things off with real gingerbread, not the plastic cookie stuff, chocolate chip cookies swimming in cognac, and sugary almond cookies.

We staggered out, happy and replete. Savoy is a serious food restaurant. They care about the food they serve, where it comes from and how they cook it. It shows in their ingredients and in their dishes.

We will continue to use Savoy as a landmark, but we will be coming back for dinner real soon.


UPDATE 13 April 2005: The beef short ribs with Israeli (supersized) cous cous was exquisite, but the pork belly was a bit less spectacular than we remember it. Either we are getting spoiled with our own pig, or there was some problem with the futures market.