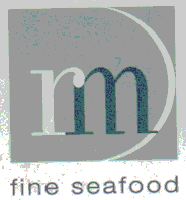 RM Fine Seafood
RM is an excellent Atlantic rim restaurant, specializing in well cooked seafood. They also serve fish from the Pacific, but since we live on the Pacific rim, we tend to go for Atlantic fish when on the East Coast.

This is an elegant restaurant, and it has food to match. Everything is done precisely, and all flavors are at full strength.

The cooking is creative. For every classic, like real Atlantic lobster in a tomato bisque, there is something unexpected and brilliant, like RM's cod cake with wild mushrooms. Given how cod is so often prepared, one associates it with vanilla, but at RM it is full force and distinctive. The Atlantic salmon, which was served with roasted root vegetables, was wonderful, and we could taste the minerals of the Atlantic.

Of course, you can eat at RM even if you do not like fish. The foie gras and oxtail terrine with sweet relish was distinctly land based and delicious, as was the divine onglet.

On the Pacific, we tend to treat fish in a casual manner, so we greatly appreciated the formality and care that RM applies to those of the Atlantic. The restaurant, as we mentioned, is elegant, so expect an elegant evening and a superb meal.