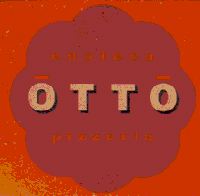 Otto
We went to Otto because they were open in the middle of the afternoon, that tricky period between lunch and dinner. We gathered that they served pizza, and very good pizza at that.

The restaurant is in two parts. There is a counter service area with high tables for eating while standing up. This is obviously aimed at the hopping, high energy crowd. We went to the other part where they have sit down tables and sat down and ordered.

To start with, Otto pizzas have a great crust. It is crispy and chewy and not too thick or thin. You can taste the smoke of the oven, but it doesn't overpower things. Our favorite pizza was the lard pizza. This was real lard, pig fat, not rendered lard, so it did not turn into a puddle on the crust, but stayed tender and intact and delicious.

We also loved the other pizzas we tried. There was an excellent bottarga and fennel pizza, a swiss chard pizza and a beef and veal pizza. All three were great. Bottarga, dried fish eggs, gives a fishy saltiness that is much milder than anchovies. Coming from crucifer country, swiss chard is a favorite of ours, and makes for a great pizza.

Otto's uses its hot ovens for more than just pizzas. We also had roasted tomatoes served with arugula. They were dry cooked and intense, not watery. The caramelized cauliflower and the salsify were also wonderful treats.

We are already planning a return visit to Otto, ideally between meals. There are other good pizzerias in New York, but Otto is in its own category and their pizzas are something special.