N. Y. Cake & Baking Dist.

56 West 22nd Street / 212 675 CAKE
UPDATE: Early 2009 - N. Y. Cake retail store seems to have closed. That's another great store gone from the city, but we'll bet that a lot of new places will open as the nation, and the city, recover from the depression. If nothing else, rents are lower, and that makes room for innovation. We've shifted our cake bling buying online to either New York Cake Supplies or Fancy Flours online, but it isn't the same as live shopping. Check out their "cake jewels", but be warned, they can dry out if not very carefully stored.
The mid-20s are full of amazing stores. One tends to take the avenues, but it is well worth taking a side street, just to see what you'll find. New York Cake & Baking is one of those amazing stores. We like to bake, and every year we have two Christmas trees, one of which is decorated with cookies, so we loved the huge selection of cookie cutters. We bought a donkey and elephant for an election fund raiser and a seahorse and dragon for the cookie tree.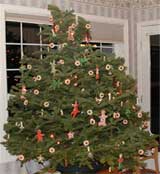 Other neat stuff:
Every type of baking pan, baguette tray, springform mold and cooling rack you can imagine and probably some you can't.
Cake gelatin and fondant for those complex icing projects.
A broad and rather entertaining collection of bridal figurines. They didn't have a gay wedding series, but they did have one angry couple glowering over their shoulders at each other and a complete "reluctant groom" series with the bride chasing the groom, and in one, dragging him to the altar by the hair. Hmm, maybe it is time for a constitutional amendment barring heterosexual marriage.
Confectionary molds, spatulas, candied flowers, glittering dragee, jimmies (aka sprinkles) in dozens of colors and icing paint kits.
If you can't get to the store, at least look at their web site. You don't have to be a baker to be impressed.