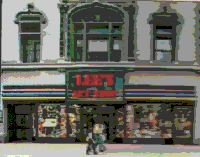 Lee's Art Suppy
Lee's Art Supply on West 57th Street has just about everything you need for old fashioned, that is, not computer based art projects. Remember beads, remember appliques, remember modeling clay. They also sell every kind of pen, paint, pencil and paper you are likely to need.

We even found little rivets to use in making volvelles.

Did we mention they have Erte wrapping paper?