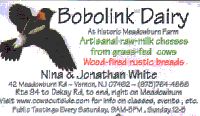 Bobolink Dairy
This isn't a true New York City thing, but we did check out their stand and their cheeses at the Union Square Market. They make a real aged, soft centered cow's milk cheese. We joined the mob chowing down on samples and spent the rest of the day walking around with cheese in our pockets. The cheeses were so good, it was hard to believe they were made in the States.

One definite draw for us was that they have a cheese named for Jean Louis Palladin who ran Jean Louis in the Watergate. We started dining there shortly after they opened in the early 80s and were there for one of the last truffle dinners in the mid 90s. We were sad to see him head off for Vegas and we cried when he died more recently.

It is nice to see that he is remembered by so many and in such an appropriate manner.

So, check out the Bobolink Dairy web site and see that there is more to American cheese than bovine growth hormone.