Across the Street
(212 722 4000)
UPDATE December 2000 - CLOSED, as is the Vinegar Factory
UPDATE May 2000 - The restaurant and the Vinegar Factory across the street have both folded some months back. Does anyone remember the last David's Cookies to open in the wild north of Broadway, before the wave broke? Could this be the good food wave of the 90s finally breaking on the East 91st?
UPDATE - Sean Lippert left some time ago and has not yet reappeared, as of June 1999. We haven't had the heart to return.
---
Across the Street is across the street from The Vinegar Factory, the new Zabar-like outpost on the upper east side. It is an airy, casual place that serves pure, authentic California cuisine with an emphasis on seasonal flavors and fresh ingredients from across the street at The Vinegar Factory. The chef, Seen Lippert, used to work at Chez Panisse and has kept true to that restaurants cooking traditions.

For example, the roasted vegetable platter included a thinly sliced, perfectly cooked little eggplant and the country pate was perfectly seasoned, not too salty or greasy, so its fresh meaty flavor came through clearly to contrast with the Cumberland sauce. The leg of lamb ficelle, i.e. tied up in a roll, was tender and savory with a mild fennel flavor and served with a caramelized gratin of potatoes, onions, artichokes and black olives. The rib eye steak was heartily contrasted with a "pile of mushrooms" from the forest floor.

During the day, Across the Street serves cafeteria style food for lunch and has a news stand, making it an urban amenity. In the evenings, it serves a spectacular dinner. You can think of it as an outlet for the grocer's across the street, and Eli [Zabar]'s wonderful bread or you can think of it as that great little neighborhood place that makes your outrageous rent worthwhile. In either case, this restaurant has few rivals in its class, particularly on the east coast.
---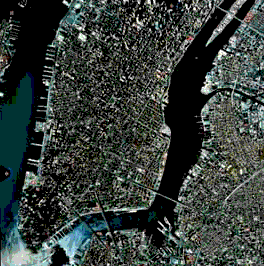 New York Restaurants