The Tunnel No End Sign in Boston
UPDATE 2004 - This is all history thanks to the Big Dig.

The Tunnel No End sign is one of the most amazing traffic artifacts one can find in Boston and one which is likely to meet its demise as the Central Artery is depressed. We all know this sign. You can't miss it on the ramp coming down off the Expressway southbound on the way to Logan airport via the Callahan tunnel. The ramp is the famous Haymarket ramp which not only handles thousands of cars each day, but quaintly doubles as a parking lot for Haymarket vegetable shoppers.
The "NO END", of course, refers to the North End, that gnarly Italian neighborhood that you wind up in if you make the wrong turn on your way to the tunnel, but during rush hour most drivers are sure it refers to endless tunnel itself. In the picture below you can see the soul-less, and by far more comprehensible signage which awaits us when the Central Artery project is completed, an event many of us may live to see. So, natives and tourists alike, enjoy the neatest sign in town, while it lasts.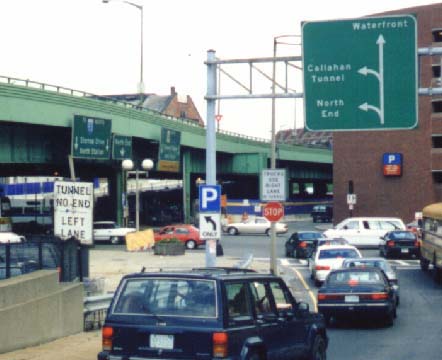 ---