Tapeo
Newbury St between Fairfax & Gloucester (617 267 4799)
Tapeo is a Spanish tapas restaurant on Newbury Street and serves wonderful, authentic Spanish treats. Tapas bars, serving appetizer size dishes, were very popular in the 1980s, but are no longer very trendy. This is a pity, since a good tapas bar, like Tapeo offers a great deal of variety for big and little appetites.
Our favorite dishes include the stuffed squid served in its own black ink, the baby eels, like little spaghetti, served in olive oil with slices of garlic, the thick Spanish omelet with sliced potatoes, the hearty Spanish sausage, the little lamb kidneys, the cold octopus salad, the old fashioned sauteed rabbit and probably a few others. Most of these are served in appetizer size portions, though they also have some lovely entrees, if you are hungry enough.
Their cooking is excellent. The flavors of each dish are intense and well married. We have explored most of the tapas menu and have yet to find a dish we didn't like.
They also have excellent Spanish wines by the glass and really good desserts. Two standouts include their rich "ubiquitous" flan served with a sweet orange sauce and their rice pudding with a creme brulee crust and berries.
---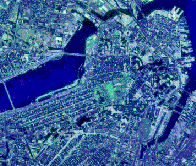 BostonRestaurants