Hammersley's Bistro
Hammersley's Bistro is a South End neighborhood place. The first time we ate there Senator Kerry was holding court with his nomenclator whispering in his ear, hopping up and greeting the regulars. Some newcomers just got a nod or a wave, some got an invite to the table. Others, like us, were ignored. It was both amusing and informative. The food was both amusing and delicious.
If you go to Hammersley's more than once you will eventually be tempted to try the duck confit which is always on the menu. This is not just an autumn dish at Hammersley's but one that varies with the seasons. In the summer we had it on a grilled mushroom sandwich.
Hammersley's is still a neighborhood place and while it resembles a French bistro, it has a broader menu and a lighter style than the stereotype would suggest. The crowd is usually young and a bit noisy. We haven't seen the senator there since they've moved a bit down the street, but we have enjoyed the monkfish saddle with baby vegetables and the veal cooked in fois gras.
Hammersley's only serves dinner - sigh - but it has valet parking (a touch of Los Angeles civilization out in the sticks). Come for a hearty and convivial meal.
---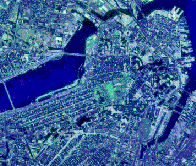 BostonRestaurants