Full Moon
Huron Avenue
Full Moon on Huron Avenue has taken over the space formerly occupied by Otto's, and before that, by Pentimento. The food at Full Moon is basic and well prepared, but it is not the main attraction. Full Moon is kid friendly, extremely so, and in a nice, cozy Cantabrigian matter. The furniture is sturdy, high chairs abound, and they have a well equipped play area. Service includes pail of plastic toys including dinosaurs, farm animals, cars and trucks.
The food is not bad. It is all fresh and well made. They have the usual staples - hamburgers and fries, a choice of pasta dishes, sandwiches. They even have vegetarian selections. Think of Full Moon as a pleasant change from McDonalds. Maybe someone will even franchise it.
Parking is a problem and it is a good idea to get there early for lunch. On the other hand, Huron Avenue is a pleasant place for walking and Full Moon attracts a neighborhood crowd.
---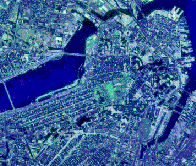 BostonRestaurants