East Coast Grill
The East Coast Grill has long been a lively place to get great ribs and barbeque. They always had chickens and meats fresh from their fiery grill. You could tell they knew what they were doing, the chef wore a Pierce's BBQ (in Virginia) cap. They are famous for their Pasta From Hell with its 100,000 Scoville hot sauce that can leave cast iron stomachs gasping.
Now they've expanded into the space next door and added wonderful Caribean inspired fish dishes and shell fish to their repetoire. The cooking is better than ever. We still like the classics - the pulled pork, the BBQ ribs, the delicious cornbread and baked beans. But, now we even have more to look forward too, every time we drop by.
They don't take reservations, which is a typical Boston area pain in the ass, so get over to Inman Square early and settle down with a real lime juice based margarita or one of their many microbrewery beers.
---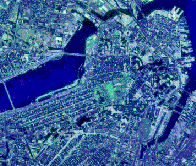 BostonRestaurants