Artu
Artu was a little sandwich place in the North End that had an amazing antipasto plate with a variety of roasted and marinated vegetables in the window and a wonderful aroma that wafted out to the street. They were able to produce an excellent roast lamb and roast chicken sandwich on our first visit.
After our success with takeout, we decided to come back and try eating in their dining room. In retrospect, we should have been tipped off by the lack of the wonderful aroma of our first visit. We were seated promptly and we waited. After a while we found someone who would give us a menu and after a bit longer someone who would give us glasses of water as we were thirsty. After 20 or 30 minutes we tried to get someone to take our order which prompted a staff panic scripted by the choreographer for the crowd scenes in Godzilla Takes Manhattan.
We went home and cooked up our pasta with cauliflower, parmesan and oil cured black olives. Sorry, this is by invitation only.
---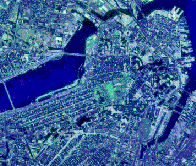 BostonRestaurants