Angelos
Located on route 28, a bit north of Stoneham center, Angelos is a little place divided into two spaces. There is a pizza place and an Italian restaurant and they are both excellent.
Angelos Pizza
Angelo's Pizza is loaded with garlic and the tartness of ripe tomatoes. They also use basil, anchovies, and other great Italian stuff. Our favorite pizzas are the Caruso's special with everything on it and the Zsazsa garlic bomb pizza. We especially like the latter with pepperoni on it, but this is not vital.
Angelos Restaurant
They serve lunch and dinner in a pleasant white tablecloth manner. They don't have a liquor license, but you can bring in your own from Rapid Liquor up the street. As you might expect, the breadsticks, basically pizza dough, are superb. The pastas putanesca and amatriciano are nice and spicy. The chicken and veal, often with artichokes are well cooked, nicely seasoned and brimming with flavor. The fried calamare is crispy and not too chewy. All told, a very pleasant place for interesting Italian food out in the burbs.
NOTE: We have not tried the Angelos on Boylston Street, but it does have the same owner.
---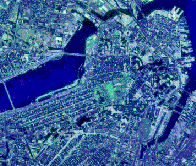 BostonRestaurants