10/23 - Coastal Panoramas from the Olympic Peninsula
We were browsing the web and came across the Washington State Department of Ecology's Shoreline Aerial Photos database, and we couldn't resist putting together a couple of composite images. The one linked to above is of the Dungeness Spit. The image above is just the image chip, click on it for the full 5910 x 448 image. The one linked to below is of Second Beach, the image is 3916 x 710. That California Coastal Records database gets all the attention, but the Washington State Coast has its charms as well.

For a bit more info on these composite pictures, you can see our coastal composite page.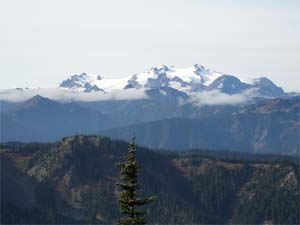 10/20 - Obstruction Point Road Before Winter
The road to Obstruction Point from Hurricane Ridge is still open.The trails are still clear, and the views are stunning. We didn't go very far, but Mount Olympus and its glaciers dominated our journey, and there was just a bit of left over snow from the previous season. We found these ice crystals (lower left) on the ground, shaded by one of the firs.
In a month or two, the ground will be covered with snow. On our drive, we saw a coyote hustling about, but the marmots have taken cover. There was one other car in the parking lot when we set off, and ours was the only car in the lot when we returned. We were quite relieved when the car started. It's a rough 7.5 mile hike back to Hurricane Ridge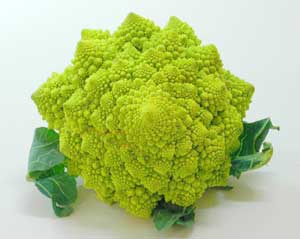 10/17 - Romanesco: Our Local Fractal Vegetable
You've probably seen these vegetables on sale at the Farmer's Market. They look like a cross between broccoli and cauliflower, though they taste more like the latter. We roast ours with olive oil, salt, pepper, and crushed star anise and coriander seeds.
It turns out that romanesco is a fractal vegetable. You see the same patterns up close as you do at a distance. For a more scientific analysis, from Fourmilab in Switzerland, there is now a web page discussing the vegetable and its fractal properties. There is even some cooking advice, but we'll stick with roasting.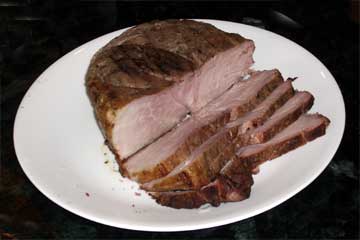 10/16 -Home Cure: The Best Ham Ever
We just checked out our own home smoked Berkshire pig ham, and we were impressed. This is the second time we have bought a half a Berkshire pig from Nash Huber. The first time, we loved everything except for the ham. Unsmoked ham can be very dry, and roasting and braising just don't help very much. We managed to gret some of the ham down with sweet potatoes, Hawaiian style, but it was just not very good.
This year, we decided to brine and smoke our own ham, so we broke out our Alan Wong Hawaiian cookbook, from our luau, and found a recipe for pipikailua beef. We boiled up six quarts of water, 12 ounces of Kosher salt, three bay leaves, four tablespoons of light brown sugar, a tablespoon of black peppercorns, and a teaspooon of whole cloves. We let this cool, then chill in the refrigerator, then we dumped in the ham for 36 hours. We had a nice three inch thick slab of meat, so we figured that 24 hours might not be enough.
Then we fired up the classic Weber kettle grill with our Hasty-Bake hardwood charcoal and some of the old apple wood from a stump we had on our property. In went the ham, down came the lid. We poked at the coals every half hour or so, now and then adding a few more chunks of charcoal, but otherwise we just let the ham smoke. Sometimes the fire was a bit high. Sometimes it was a bit cool. With the lid down it averaged out just fine.
After three hours of smoking, we took out our ham. It had shrunk a bit, and it was brown and juicy looking. We cut off a bit. It was delicious. We let it sit on a plate in the refrigerator overnight to settle. This morning, it looked great and it was delicious. No, it didn't turn as pink as commercial cured hams. We didn't want to bother with curing salts. We just wanted to find a way to cook up our ham so we'd eat it, not preserve it for the winter. On the other hand, the wooly texture we associated with ham from the year before was gone. The meat was denser and moister. The flavor was rich and intense, without being too sweet or salty.
If you search the web for a ham recipe, you tend to get rather terse instructions, and they all call for curing salts. Think of this as a simple recipe for brined and smoked ham. With a little planning, you can make one yourself.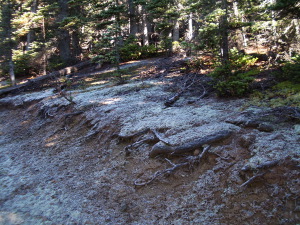 10/11 - Early Frost in the High Country (Hurricane Hill)
There is already frost up in the hills. We were up on the Hurricane Hill Trail this morning, and there it was alongside the trail in the shaded areas. The lingering snows vanished months ago, but now we are getting our first glimpse of winter as the temperatures drop at night.
Obstruction Point Road is still open, but they close it at night. The snow poles are up around the Hurricane Ridge Lodge. This is still autumn, but we are seeing signs of winter, and a mile above sea level winter starts a fair bit earlier than down by the sea.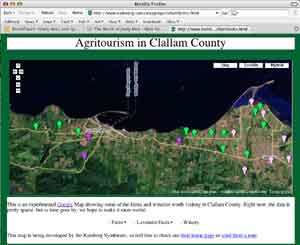 10/11 - Google Maps Come to Clallam County
We've been playing around with Google Maps. This is a rather neat interactive mapping system developed by Google. It uses a road database like Mapquest and a false color satellite database so you can see not only the streets and roads, but also get a sense of the land usage and urban density. The interface is neat too. It's the old electronic light table idea. You just put down your mouse and drag, and your web browser loads in the image tiles as you go.
Our map of Clallam County shows farms, lavender growers and wineries. If you click on one, it will tell you a bit more about the destination. It also shows the growing suburban sprawl in the Sequim area. If you look carefully, you see housing developments and golf courses. For some contrast, drag the mouse upwards, and you'll see the Olympic National Park and National Forest boundaries. Those park and forest boundaries are more than just lines on the map.

10/7 - The Buyer's Excise Tax - Saving Farmland
We just read a scary article in today's Peninsula Daily News saying that local realtors are bringing in outside, professional canvassers to try and defeat the Buyer's Excise Tax, Proposition 1. Realtors get 6% for every house sold, so more houses are their livelihood. The Buyer's Excise Tax (BET) is 1/2%, and it goes to preserving farm land and open space in Clallam County. Anyone reading this web site over the years realizes that we are big fans of local agriculture, but there are more solid, financial reasons to support the BET.
The Sequim area, in particular is being heavily developed. There is a new monster Walmart, a new Home Depot, and other stores coming in, and so is more residential development. All of this creates the demand for new services. The roads will need continuing upgrades as traffic increases, older people will need more paratransit and new clinics, younger people will need more schools, and more people and traffic mean more police officers. Property taxes are going to go up.
All this growth is going to change the character of the area. People who already live in the area, and people who move here in the near future, will start noticing that they bought and paid to live in one place, and now they seem to be living elsewhere. We can't stop change, but we can ameliorate its effects. The BET provides funding for doing this. Instead of taxing existing owners with increased property taxes, it is paid for by people moving in, the agents of change. They are already paying the realtors 6%, so one half of one percent is only a small increment. It is probably less than they pay for title insurance.
We used to live in the Boston area, so we have seen how well the BET and similar taxes work. They do preserve farmland and open spaces, and they also keep property values higher. People who choose to move to the community get what they paid for, and this makes the area more desirable. Everyone does well, including the realtors. They may lose a bit on volume, but they make it up with higher home prices.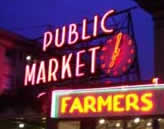 10/5 - Pike Place Market at Night (An Urban Wonderland)
We took some pictures of Pike Place Market at night on our last trip in to Seattle. The market is rather mysterious at night with the crowds gone and signs all lit.
10/5 - The First Annual Clallam County Farm Tour
We went on the Clallam County Farm Tour this past Saturday and we checked out one of our old favorites, the Johnston Farm, and we finally found out what was in that big red barn at the corner of Kitchen-Dick Road and Old Olympic Highway. We also got to try out some of the Bella Italia pork and lavender sausages that we had heard so much about, and they were delicious.
Shown below are the farm stand at Johnston Farm, with tons of tomatoes and other harvest goodies. We bought the last of her romano beans and a pile of tomatoes for making sauce, and the big red barn, at the much less mysterious Adolphsen Farm.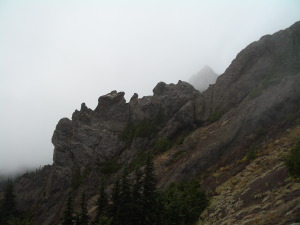 10/1 -Early Autumn on the Switchback Trail
We were up at Klahane Ridge the other day and the scenery wa spectacular, both on the climb up the Switchback Trail, and at Hurricane Ridge as well. There was no great panorama, but more of a dance of the seven veils, with the clouds revealing and concealing. It was tricky weather for a photographer with great shots appearing and disappearing as we climbed.
It is tempting to avoid Hurricane Ridge on cloudy days, but the clouds and fog offer a special kind of beauty. The mists accent the mountains and make everything more real and less abstract. The recent rain made for better hiking too. The trail is made of dirt again, rather than dust.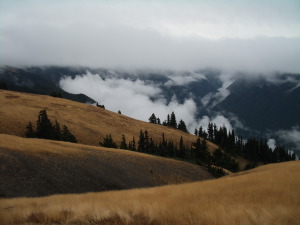 -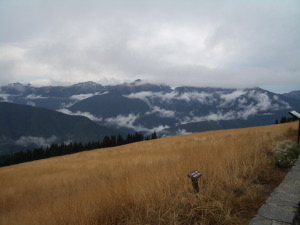 Not quite a panorama from Hurricane Ridge